The following is a guest article, submitted by one of RJR's readers. If you are interested in submitting a guest post, please email me: [email protected], and put "Guest Article" in the subject area.
Facebook serves many purposes for many people, but the social networking platform's usefulness doesn't end with staying in touch with old school friends and distant family members! Thanks to Facebook pages, people are able to converse and collaborate on a number of topics, and health, fitness, and nutrition are some of the most popular in a world full of fattening foods and reasons to stay on the couch.
If you're working to build healthier eating habits and could use a bit of support from others on the same path, check out these five helpful healthy nutrition Facebook pages for a boost in both morale and know-how:
1. Scoop Nutrition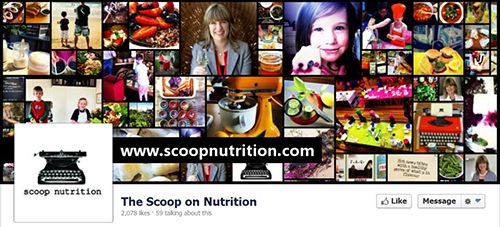 A big part of being a healthy eater is knowing the best foods to zero in on, and how to cook them, and that makes the Scoop Nutrition Facebook page a great one to "like," filling your news feed with tips, tricks, and recipes several times each day.
Besides reaping the rewards of knowing your food better than ever before, you're also likely to find yourself learning the kind of useful trivia that will make you a hit with friends and exercise buddies, alike!
2. Nutritional Disorders Journal
While it may not be a topic that often comes to mind, the fact is that our diets can play a major role in our likelihood of developing some forms of chronic disease, and the Nutritional Disorders Journal Facebook page is the perfect place to stop by for a healthy dose of insight on how your eating habits can affect your physical well-being.
From studies of foods that are linked to everything from obesity to autism, to those that reflect on the dangers of compounds like aspartame and bisphenol A, this Facebook page offers a unique look at food and diet – one that you'll not find anywhere else.
3. NutritionFacts.org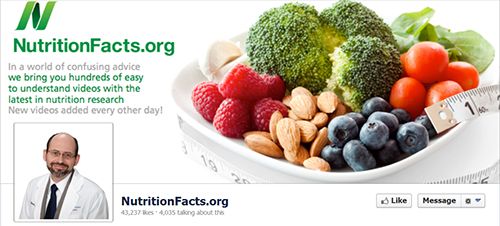 No matter what your exact fitness goals are, a simple search in Google will reveal a long list of confusing facts, advice, and other information, often times causing enough conflict to leave you not knowing in which direction to go.
Aiming to solve that problem is the NutritionFacts.org Facebook page, an easy to access community that offers up straightforward, sensible tips and facts several times daily. Should you eat three meals per day, or six? Do you really need eight glasses of water per day? Is aspartame really as risky as many people claim it is? You'll find answers to those questions and more on this page.
4. Nutrition Diva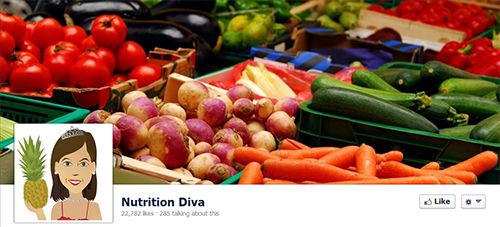 The Nutrition Diva is a well-known figure on Facebook, and the more than 22,000 people who take part in what her page has to offer are all drawn by the creative and super healthy recipes, tips, and web links that she posts every day of the week. Besides those offerings, you'll also find a constant discussion taking place here about any and every facet of eating well, giving you the opportunity to grow and learn with others who share the same interests as you.
5. Nutrition on a Budget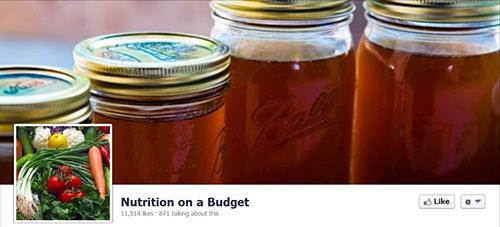 Let's face it: eating healthy can get quite expensive, and that makes even considering a major change in our diet a headache for many millions of people around the world. Thankfully, the Nutrition on a Budget Facebook page provides you with multiple creative tips and tricks every single day, each of them designed with only two things in mind: saving you money, and making you healthier.
Whether you're looking to create your own sauces, dressings, and dips in order to avoid preservatives, or you just need information on how to choose the products that will serve your pocket and body best, you'll find everything you need here, along with lots of tips that you'd never knew you needed until you saw them!
About the Author:
Anna is the health blogger writing about weight loss herbs and various other natural health tips. She adores traveling and is passionate about healthy food, active lifestyles, and self-improvement.
Ingredients:
1/4 cup

lemon juice

2 tbsp

EVOO

3/4 tsp

garlic

, minced
1/2 tsp

ground mustard

1/2 tsp

ground oregano

1/2 lb

boneless, skinless chicken breast

, cut into 1/2 inch strips
1/2

cucumber

, chopped
1/3 cup

nonfat, plain Greek yogurt 

1/4 tsp

dill weed

2

gyro bread

1/2 small, red onion, thinly sliced (optional)
Directions:
To make the marinade, combine the following-
lemon juice

EVOO
1/2 of the garlic
mustard
oregano
To make the cucumber sauce, combine the following-
cucumber

yogurt
dill
rest of garlic
To complete the rest of the recipe-
Add raw chicken to a Ziploc bag with above marinade, and refrigerate for 1 hour.
Remove chicken from refrigerator, drain and discard the marinade.
In a large, nonstick skillet, saute the chicken for 7-8 minutes or until the juice runs clear
Spoon half chicken on each gyro bread, and top with cucumber mixture. Garnish with onion, lettuce and tomato.
[Recipe inspiration via]
Ingredients:
small package of

80/20 ground beef

1 small,

yellow onion

, finely chopped
1 package of

frozen green beans

, microwaved
1 can

tomato soup

2 pie crusts

(or 1 package of store-bought variety)
EVOO
1

egg

, beaten and set aside
salt, pepper, garlic powder & other seasonings, according to your taste
Directions:
Set stovetop to medium heat and, in a medium-large saucepan, pour in a little EVOO and toss in the onions. 

Put pie crust on the counter to bring to room temperature. *If it is store-bought, you can leave it in the package on the counter.
After 3-5 minutes, add the ground beef to the pan and stir occasionally until meat is completely cooked.
Turn on the oven to 420 degrees.
Transfer the ground beef into a colander to strain the excess fat. Pour ground beef back into the pan.
Add in the green beans, seasonings and tomato soup. Stir until thoroughly mixed.
Remove pie crust from the packages. Carefully unroll the first pie crust and place in the bottom of a clear, glass pie dish.
Transfer the meat mixture from the saucepan into the pie baking dish.
Unroll the other pie crust and place over the top of the meat mixture, taking care to seal the edges. With a fork, prick the pie crust to create ventilation.
Using the same fork (or a poultry brush), brush the top of the pie crust with the egg.
Place the pie (uncovered) into the oven on the lowest rack, and bake for 25 minutes.
At 4:30 a.m., I woke to the sound of rain falling steadily outside. An hour later, I was rolling myself out of bed and padding down the stairs in complete darkness.
I glanced over at the green glow above the stove.
5:30 a.m.
I turned my attention back to the vast, black expanse, reaching into a familiar corner for a shoe; instinctively tugging a long sleeve shirt off of a hanger and quietly snatching my car keys before ninja-ing my way to the garage.
No lights. No noise.
That's how I preferred it. The first light my eyes would see would be the sun rising.
Two of us stepped out of the car and into the moist, temperate air.
The steady rain had reduced to a scattered drizzle as we moved breathlessly through sleepy streets.
Minutes later, another set of feet joined our small running group.
The road glistened under the street lamps as we navigated puddles, questionable curb heights and construction cones.
I half listened to the muted conversation taking place just in front of me; and for a moment, I allowed my eyes to close- breathing in..
..There were traces of Holly and Magnolia and Oak Leaf Hydrangea, punctuated by freshly laid mulch. Wet dirt and asphalt mingled with the warm, melting notes of rising dough and bacon.
I opened my eyes back up. Signs of life now.
Construction workers with yellow hard hats on, lunch tins in one hand, coffee cups in the other, walking to work. Cars idling at red lights.
Our running group back to two, we rounded out our 9-mile run just in time to see the sky turn from black to dark blue; dark blue to pinks and purples and light blues.
I arrived back home, half the world still asleep as I changed out of my wet clothes and sat on the floor to stretch- the yellow and gold rays pouring in through the windows.
In honor of Good Friday and the Easter weekend, I decided to throw together a clean-eating dish with my favorite fish: Salmon.
This is yet another super easy, super delicious meal that you can throw together in a mere matter of minutes- which is a great thing for those of us who don't like to spend a ton of time slaving over a stove.
Ingredients:
1

salmon

fillet, fully cooked
1/2 cup fresh kale

, chopped into small pieces

1 cup fresh bok choy

; chopped into small pieces with the white part separated

2 sprigs green onions

, finely chopped

4-5 grape tomatoes

, sliced in half

EVOO
turmeric, salt-free seasoning, crushed red pepper (seasoned to taste)*
*You can choose to include more or less seasonings.
Directions:
Prepare your salmon according to your preferences, and set it aside. **Because I'm not a huge fan of 'cooking', I bought pre-seasoned, frozen salmon and popped it in the microwave for 3.5 minutes.
Cover the bottom of a medium sauce pan with EVOO, and set over medium-low heat.
Toss in the green onion and the white part of the bok choy (because the white part requires slightly longer cooking time). Cook for roughly 3 minutes.
Toss in kale and seasonings, and add a little water. Mix contents thoroughly until the kale and bok choy appear bright green in color.
Throw in sliced tomatoes and stir for another 30 seconds before removing from heat.
Using salad tongs, place mixed greens on a plate, and top with salmon.